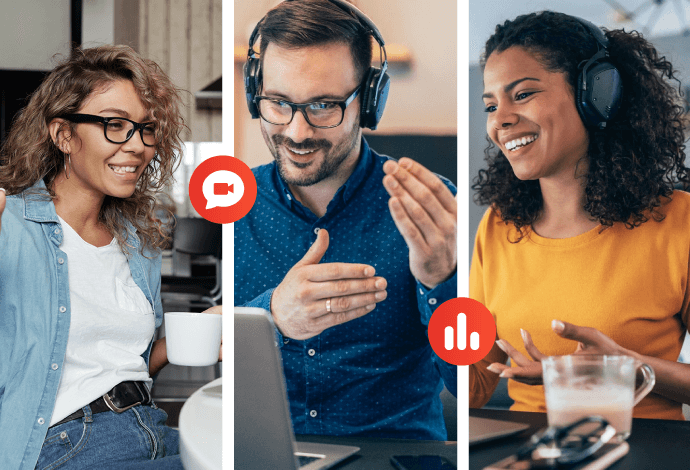 Ways to Make Your Online Event More Engaging
Great engagement is the key to a successful virtual event. Planning engagement activities to make your virtual event successful requires creative thinking and pre-planning. In this article, we have curated a list of the most effective ways for making your online event more compelling and engaging.
Divide the Event Into Smaller Sessions
There are a lot of distractions available to the online attendees that can make them click away and exit the event. Therefore, it is crucial to plan different strategies for your in-person events to make them more effective. It is fairly difficult to hold the attention of the online audience for a longer period. It could get boring and uneventful to sit alone in a room and attend the event. It is also important to note that humans tend to have an attention span as short as 20 minutes. Therefore, it is a good practice to divide the entire event duration into smaller sessions. Try to keep the duration of each session close to 20 minutes as this will help you keep the attendees glued to their computer screens. this is a very good strategy to promote the event audience engagement.
Use Ice-breakers
Ice-breakers are a great way to bring all the attendees on the same page and get comfortable with each other. Most of the attendees of an online event are strangers to one another. Including a fun, ice-breaker activity will help break the ice and provide them with an opportunity to get to know each other and find it easier to speak and share their ideas. You can start the sessions by asking them an open-ended question and giving everyone 2 minutes to share their views on the subject. It could also be a simple introduction session or could even include an ice-breaker game.
Use Variety of Content
None of your attendees is interested in listening to a single person throughout the event as it can get boring. To make your virtual event interesting, you can use different forms of content like videos, presentations, images and infographics. You can also include insightful charts and graphs to increase the alertness levels of the event. This is one of the best audience engagement tools for the success of your virtual event.
Use 3D Customizable Event Platforms
While looking for a virtual event hosting platform, you must invest in a 3D customizable event platform as it will help make your online event more engaging and interactive. Customization is also an integral feature that you must look for in a virtual event solution. This feature will help you customize your virtual event according to the preferences of your target audience. 
Include Live Polls
Live polls are very helpful in boosting the engagement levels during the virtual event. These can be used during virtual team building activities. This is one of the best events audience engagement ideas. Most of the virtual event platforms provide the live polls feature. Live polls can also help you test the alertness levels of the attendees and check the engagement at your event. You can include as many as 3-4 live polls depending on the duration of the event. These live polls can be placed at the end of crucial sessions. This can also be used as an opportunity to gather meaningful details about the attendees.
Use Crisp Content
Content plays a very important role in increasing engagement at your online event. It is one of the best pre-event engagement ideas. You must focus on creating compelling content both before the event and during the event. Using creative and witty content before the event can help mobilize more people to attend the event. You can also use content to inform your audience about the event agenda and keep them updated about your new developments in terms of products and services.
Smart Use of Push Notifications
Push notifications can sound like a pushover and using too much of them can even irritate your attendees. But, you can use them to your advantage if used smartly and tactfully. Tweak your approach a little bit and get creative with the text of your push notifications. Rather than being direct, you can take a witty and humourous approach towards your push notifications like "beat others at carrom now and become the leaderboard king". This will help add value to them and increase engagement. This is also a great opportunity for you to display live event stats to the attendees.
Include Q&A Sessions
Another great engagement boosting strategy to boost engagement during online team building activities is to include question and answer sessions in your event. It helps the attendees clarify their doubts, engage and interact with the hosts and experts to get detailed insights into the subject matter. For instance, in the case of a product launch event, the attendees can ask their questions and get to know more about the product being offered. This will further help improve the company's overall sales. To make your event more engaging, you can consider including a Q&A session at the end of every major segment.
Gamify Your Event
Online games are not just for kids, even adults enjoy playing virtual games. Therefore adding them to your virtual event will give them a chance to take a break from the event and indulge in playing. It is also a great strategy to promote networking among the attendees. Adding rewards and gifts for the winners can further increase excitement and boost engagement at a virtual event. This also helps develop a healthy competitive spirit among the attendees.
Use AI Matchmaking
Using AI matchmaking can prove to be very helpful in boosting engagement at your virtual event. This tool uses the power of artificial intelligence to give them recommendations for the best match based on shared interests and common goals. This not only saves the time of the attendees and organizers but also saves you from going through the trouble of analyzing the details of each attendee.
Takeaway
Hope the ideas discussed in this article will help you plan a successful virtual event and give your attendees an engaging and immersive experience.