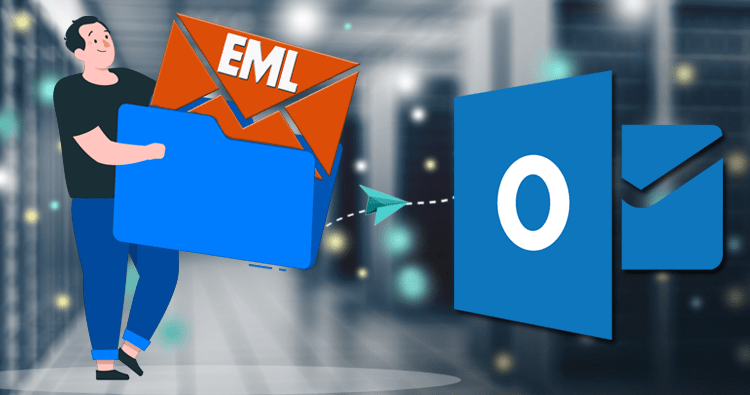 Import EML Files into Microsoft Outlook
If you want to learn how to import EML files into Microsoft Outlook versions such as 2019, 2016, 2010, and others, read this blog carefully. There is no guarantee that any manual method described in this blog is authentic, so it is recommended that you learn and try it based on your own understandings.
The Outlook application has a lot of fans because it is Microsoft's official and consistent email client. To make data accessible in the Outlook application, all file formats are now being converted to PST format. This action is being pursued not only through conversion, but also through export. When it comes to EML files, which are generated by other email clients, they may also be of interest to Outlook users.
Because of its outstanding features, such as the ability to work on EML files while offline and the fact that everything is stored in its database file, Outlook is commonly used to read EML files.
Furthermore, because EML files can be moved and stored in any folder by users, there is a high risk of accidentally deleting them. Importing EML to the Outlook application is the best way to solve this problem. Let's have a lively discussion and explanation of the methods that can be used to import EML files into the Outlook application. or go for easily available software EML converter.
Import EML Files into Microsoft Outlook 2019, 2016, 2010, or 2007
The process of importing EML files into Outlook is dependent on the location and number of EML files. We have a number of options for importing EML to Outlook based on the same principle. All Outlook versions – 2019, 2016, and 2010 – are covered by these solutions. Let's take a look at them one by one.
Note: Before running these processes, make sure you have a backup of your EML files.
Adding an EML File via Drag and Drop
This method is straightforward and should be used in the following scenarios.
If EML files are kept on the system hard drive separately,
If your computer has an EML files folder, open it.
If you don't have any other email client than Outlook installed,
So, now that you know all of the scenarios in which you can use this method, tell us how to do it.
Open the Microsoft Outlook program on your computer.
Open the folder in which the EML files are stored.
Drag and drop EML files into the mailbox folder of the Microsoft Outlook application.
If you want to go through each EML file folder one at a time, repeat the process.
Outlook will now be able to open and view EML files.
Note that this drag-and-drop method for EML files does not allow you to move email attachments to Outlook.
Do you want to Easily Import EML Files?
Though we've just gone over two viable manual methods to import EML files into Microsoft Outlook, we all know that native solutions come with their own set of risks and drawbacks when it comes to the user's data. Data loss or property changes are common risks for the above methods, while single EML transfer and two email clients requirements in the respective solutions, as well as loss of SMTP headers, are other drawbacks. That is not meant to be offensive. However, if users do not want to be limited by these restrictions, we have a solution for you in the form of our EML to PST Converter tool. The program is a professional file converter that converts EML files to PST files, which you can open in your Outlook application. Except for Outlook 2019, 2016, and 2010, it works with all versions of Outlook. The best part is that there are no file size or number restrictions, and users can even read the content of EML files before converting them. With so much praise for the tool, let us get to know it a little more practically by going over the steps to use it. You can try these steps for free by downloading the tool's demo version and installing it on your computer.